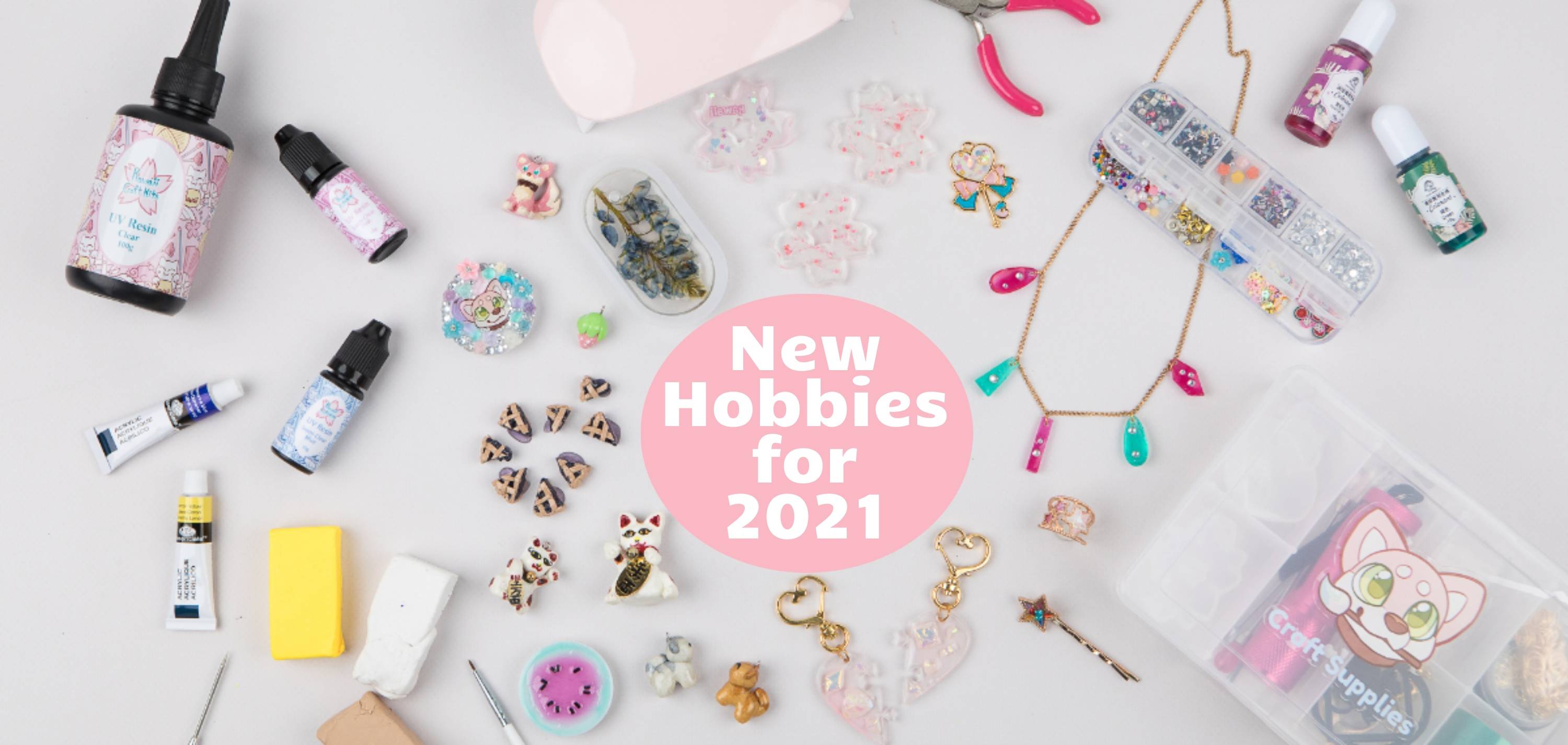 Is your New Year's resolution to learn a new hobby? Get more creative? Stay creative at home? Then this blog post is for you. Keep reading for more on how to stay creative & make the most of 2021.
This post will focus on different crafts you can learn & enjoy.
Read more and start a new hobby! You can also click on any example project image to watch that specific YouTube tutorial by Craft Kitsune.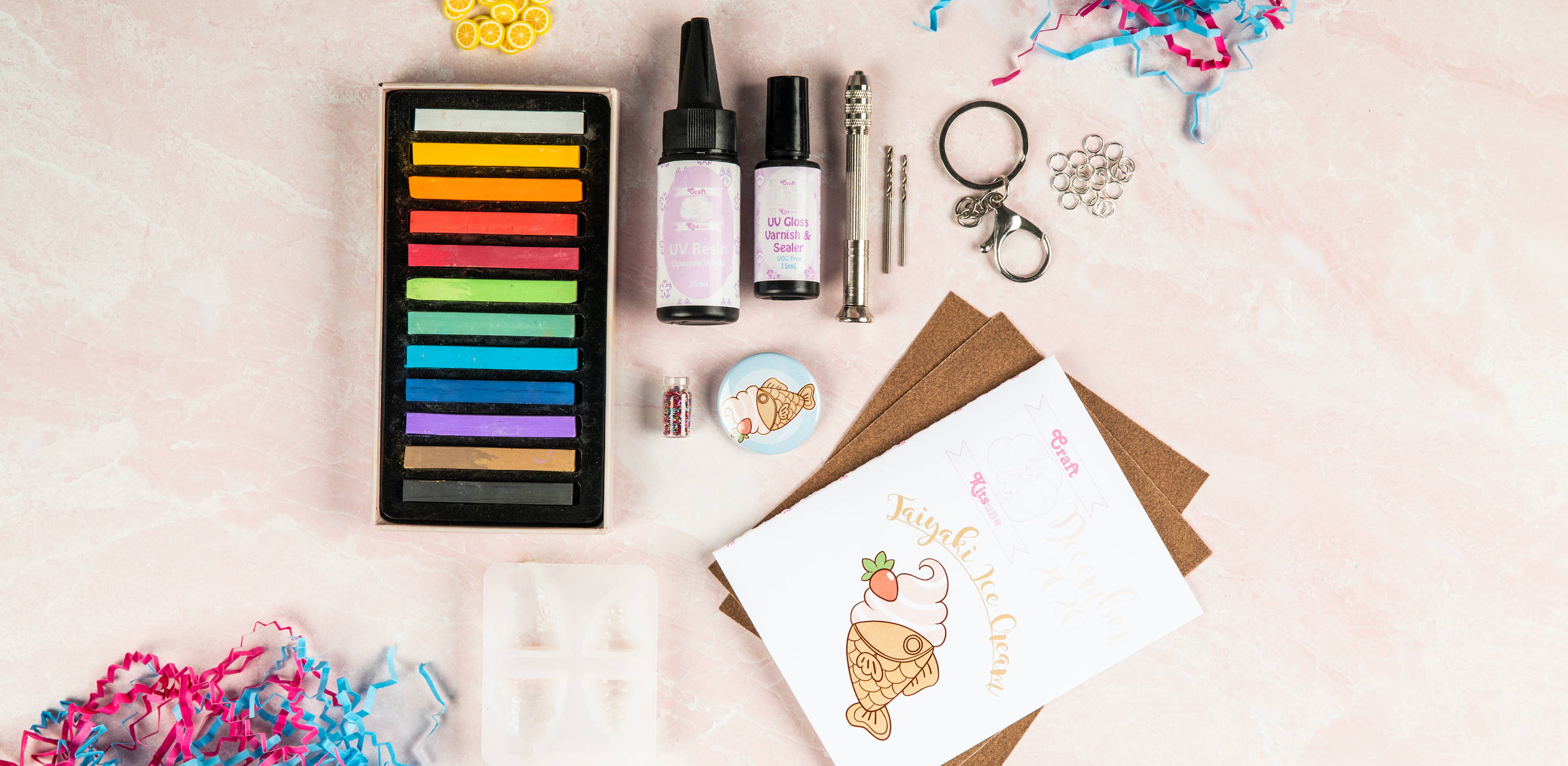 A Gym Membership For Crafting
Craft Kitsune is a monthly subscription box that will deliver you all the materials and inspiration you need to craft! Each month is a new, exciting project & mediums vary. Learn lots of new crafts or develop your skills in different crafts with each box.
Each month includes free shipping within the U.S., a dedicated tutorial video, a crafty community, and more! Learn more at the bottom of this post.
Not just for glazing artwork or covering countertops. Discover a whole new crafting world with resin!
A liquid craft material sold in 2 parts. Mix the two parts together for a few minutes in most cases (depends on brand of resin) to start a curing/hardening process. Usually this will be complete in 24 hours.
Perfect for imitating water in dioramas/environments, glazing projects and artwork, making resin artwork similar to a paint pour, making keychains, making jewelry, making home decor pieces, coasters, wall hangings, jewelry boxes, and much much more!
Here are just some resin projects featured in past Craft Kitsune boxes:
To make quicker resin pieces. Instead of 2-part resin, this resin types cures in just minutes under UV light (yes, it will also cure under the UV light from the sun!)
It comes in just one bottle/part. No mixing parts together. Also sold in colored versions or you can mix you own color using the same techniques for making colored 2-Part resin.
It is also perfect for strengthening clay pieces & adding shine.
However, this resin type is more expensive than 2-part resin and has a few more limitations. For one, you can only use clear molds (opaque molds do not let the UV light pass through). It's also best to work in thin layers as it will not cure well otherwise. UV Resin is best suited for smaller scale projects such as jewelry.
Example UV Resin projects featured in past Craft Kitsune boxes:
A versatile medium with endless possibilities! No pottery wheel required (although that is another fun, creative idea).
Select air dry clay, polymer clay (oven baked), or apoxie clay. Sculpt to your hearts content. Add finishing touches like paint, pearl powders, chalk pastels for shading, metal embellishments, and more.
Make charms, jewelry, figurines, home decor pieces, etc.
Example clay pieces made from past Craft Kitsune boxes:
New Hobby: DIY Home Decor
Decorate your home with your own crafts! As we spent & are spending much more time indoors in 2020 and through 2021, make your house a home. Add your personal flair. Select a project based on a specific home decor theme (examples: farmhouse, nautical, cottagecore) or based on a need (examples: spice rack holder, headboard, hallway decorations, wall collage).
Easily get started with making seasonal home decor with Craft Kitsune's sister craft box- Craft the Seasons. A quarterly box to get your home ready for Spring, Summer, Winter, and Fall!
Home decor projects crafted from past Craft Kitsune boxes:
New Hobby: All of the Above & More!
Craft Kitsune kits feature the above mediums regularly and others as craft trends evolve. In 2021, give yourself the gift of creativity with Craft Kitsune.
Learn lots of new hobbies and test tons of new craft supplies.
You can also shop any in-stock past kits & special supplies through the one-time shop.
Craft Kitsune is your perfect new hobby box.
✔️ Join hundreds of satisfied crafters. Get monthly craft kits packed with supplies each month.
✔️ Supplies are carefully curated to give you everything you need to complete projects around exciting, new craft trends. Plus, leftover supplies can be used for your future projects.
✔️ Craft projects & mediums are always announced ahead of time, allowing you to skip months if you'd like.
✔️ Craft Kitsune is always here to deliver the best possible crafting experience. Contact our friendly customer service with any concerns, any time.
✔️ Give us a try and you'll see why crafters rate Craft Kitsune 4.9 stars on Cratejoy.
Leave a comment - what craft(s) are you going to try in 2021?